This post is a part of
Stacking the Shelves
, a weekly book meme hosted over at
Tynga's Reviews
where people post their weekly book hauls. Hauls includes physical books as well as any electronic or audio books. Join in if you're interested! Now onto my haul for this week.
I picked up a couple of hard copy books recently! This is quite rare for me ever since I got my Kindle but I'm super excited to be able to pop these on my shelf. Enjoy (:
Blurb: Grounded in the realities of the real world, by someone who lives there, this title is suitable for any woman who has ever groaned at the presumed impossibility of building and maintaining a successful career, a fulfilling personal life, health and happiness.
Why I bought it:
Loved the idea of this book and thought it'd be a sweet and useful read. Also I loved this beautiful paperback edition from
Kikki K
(a line of stationary stores in Australia, though I think they're in Europe as well?). They have some other books in a similar line of work that I want check out as well.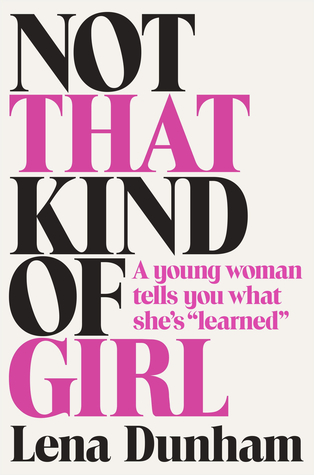 Blurb: From the acclaimed creator, producer, and star of HBO's Girls comes a hilarious, wise, and fiercely candid collection of personal essays that establishes Lena Dunham as one of the most original young talents writing today. In Not that Kind of Girl, Dunham illuminates the experiences that are part of making one's way in the world: falling in love, feeling alone, being ten pounds overweight despite eating only health food, having to prove yourself in a room full of men twice your age, finding true love, and, most of all, having the guts to believe that your story is one that deserves to be told. Exuberant, moving, and keenly observed, Not that Kind of Girl is a series of dispatches from the frontlines of the struggle that is growing up. "I'm already predicting my future shame at thinking I had anything to offer you," Dunham writes. "But if I can take what I've learned and make one menial job easier for you, or prevent you from having the kind of sex where you feel you must keep your sneakers on in case you want to run away during the act, then every misstep of mine will have been worthwhile."
Why I bought it:
Despite the controversy I am a massive fan of Lena Dunham and her work. I love her HBO show "Girls", think she's a fantastic writer and can't wait to read her book! So pumped. Also I've been meaning to get more into non-fiction reads and this one definitely motivated me to do so.
Blurb: It is a secret the Chinese government has been keeping for forty years. They have found a species of animal no one believed even existed. It will amaze the world. Now the Chinese are ready to unveil their astonishing discovery within the greatest zoo ever constructed. A small group of VIPs and journalists has been brought to the zoo deep within China to see its fabulous creatures for the first time. Among them is Dr. Cassandra Jane 'CJ' Cameron, a writer for National Geographic and an expert on reptiles. The visitors are assured by their Chinese hosts that they will be struck with wonder at these beasts, that they are perfectly safe, and that nothing can go wrong. Of course it can't… GET READY FOR ACTION ON A GIGANTIC SCALE.
Why I bought it:
I can't remember on whose blog I saw this book reviewed but it's been stuck at the back of my head ever since. When I saw such a pretty hard cover copy of it in stores I had to get it! So here I am with an exciting new read.
So those are the books I got this week! Very happy with the haul. What did you pick up this week? Let me know in the comments and be sure to link your STS. (: